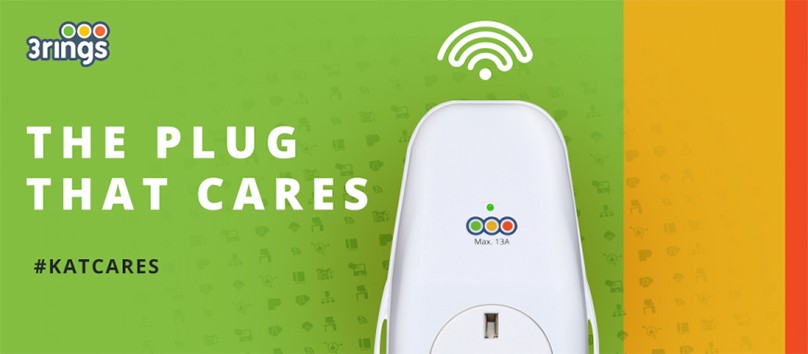 So, by now you may have seen a few posts on social media with the hashtag #KATCARES, Well it's about time we let you all know what #KATCARES is all about.
We have been totally blown away with a product known as the 3rings plug. What is the 3rings plug you may ask?  We will just leave this link here for a more visual introduction to this amazing piece of kit
[button title="An introduction to 3rings" url="https://www.youtube.com/watch?v=k8kLBCK_Xeg" new_window="yes" size="large" color="accent" icon="play" ]
Imagine you have a loved one that you were concerned about as they are left at their home alone. What if a simple, yet smart piece of technology, could let you know that your loved one is safe? Sounds pretty cool (And reassuring)!
This is exactly what the 3rings plug does. Your plug can connect to many household electrical devices, for example; a toaster, a tv or perhaps a kettle. If you know that your loved one makes a brew, everyday and generally between the hours of 8.00 and 9.30am, you can set the device so that the clever 3rings plug notifies you, by sending a text to your phone and it lets you know that your loved one has or indeed hasn't turned that device on.
If you are worried about your loved one, the 3rings product could literally save someones life. It is as simple as that.
We thought the 3rings device was that good, we wanted to help promote this amazing product and give something back to our local community, to show how much we care.
For every 3rings plug purchased from the Westfield Health website (using our codes Katcares or Prideoftheisle), KAT Communications will donate £5 to the heart warming and incredible charity, Pride of the Isle, a charity set up in memory of Alexander Strong, a young boy from the Isle of Axholme in Lincolnshire, who sadly died from Neuroblastoma cancer at just 7 years old in 2013. The Pride of the Isle charity now works extremely hard fundraising to help support and make memories for children and adults who are terminally ill, as well as helping fund further community projects.
It would be amazing if everyone can get behind the #KATCARES campaign. Please share this blog post on your social media channels, quoting #KATCARES to help raise awareness for this charity that is doing so much for people who are terminally ill.
We believe the 3rings product helps promote independent living, gives loved ones peace of mind, and at the same time, purchasing this product from Westfield Health using our codes, will also go towards making a real difference to the Pride of the Isle charity.
"We are delighted to be linking up with KAT Communications and we absolutely love the KATCARES Campaign. Fundraising through this particular campaign will go towards making memories for children & adults with cancer & helping children with disabilities to make a better quality of life.  Leesa Sharpe of Pride of the Isle
Here is the link to the Westfield Health site and please please please, if you do end up purchasing one of these amazing products, make sure you use one of the codes below on the website. It is the only way we are able to monitor how much we can donate to the charity.
CODES – Katcares or Prideoftheisle
Thank you so much for your time and support.
#KATCARES