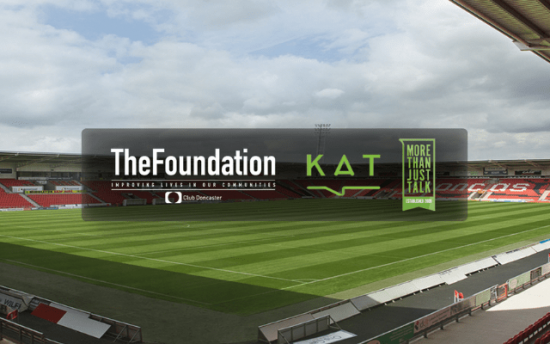 KAT Communications are proud Patrons of Club Doncaster Foundation
Doncaster based telecoms provider KAT Communications have renewed their patronage support for Club Doncaster Foundation for another year.
The foundation work with a number of partners and organisations who offer vital support across our programmes that last year engaged with over 6,000 people.
Anthony Temperton, of KAT Communications, said: "Our commitment to supporting the local community has never been stronger than it is now and we are delighted to continue with our support for Club Doncaster Foundation.
"The programmes they deliver across the borough can be truly life changing and we are proud that our support helps to deliver those programmes."
John Davis, CEO of the Foundation, added: "During this unprecedented time, it is absolutely vital that we retain the support of organisations that can help us to support our community.
"KAT Communications have been a partner of our charity for a few years now and we're proud to continue our work with them, improving lives across Doncaster."
Throughout the Coronavirus pandemic, the Foundation have had to find new ways to engage members of the Doncaster community who could no longer benefit from face-to-face delivery.
What they experienced was a shift to more digital delivery, allowing them to engage people online in a safe and interactive manner.
You can gain an insight into how the Foundation continued to support the local community through this video:
This work allowed them to develop an offer that allows Doncaster residents to access content such as education, exercise and wellbeing tutorials, while being able to communicate with like-minded people to help alleviate feelings of social isolation which increased during the pandemic.
The Club Doncaster Foundation team have worked tirelessly to facilitate the digital transformation and they will continue to support our community throughout this time.
If you would like to learn more about how you can support Club Doncaster Foundation and the work they do across Doncaster, please don't hesitate to get in contact with them on admin@clubdoncasterfoundation.co.uk.
For further information on KAT Communications, their community work or their solutions for businesses contact them on enquiries@79.170.44.128